Overview
Classified as Limited Speed Motorcycle (LSM) in Canada with max speed of 70km/h
Regular car driver's license, registration and insurance is required.
Same road regulations as 49cc motorcycles apply.
The Super Soco TSx is an electric bike classified as a Limited Speed Motorcycle (LSM) in Canada, offering a maximum speed of 70km/h. It is designed to provide a smooth and user-friendly riding experience, making it an ideal choice for beginners and riders who need a convenient mode of transportation for city commuting. Similar to 49cc motorcycles, the TSx requires a regular car driver's license, registration, and insurance.
Performance and Range
The TSx shares many components with the TC model, such as the battery, Bosch motor, and controller. It combines the stylish appearance of the TS with the performance of the TC, resulting in an appealing package. The Bosch 1500W electric motor perfectly suits the bike's purpose, offering two power modes. The first mode limits the speed to 45km/h, while the second mode allows for a maximum speed of 70km/h.
The TSx provides a range of approximately 65km per charge when ridden at low speeds. However, it also features a battery compartment capable of accommodating two batteries, effectively doubling the range to 130km per charge. The batteries are removable and can be charged on or off the bike. With a charging time of three and a half hours for a full charge, the TSx ensures convenient usage.
Battery and Charging
The TSx is equipped with two removable Lithium batteries, similar to those used in the Tesla Model S, offering a driving range of 120km. These batteries feature an advanced Battery Management System (BMS) that protects them from over-discharge and ensures long-term battery life. The battery compartment can take two batteries that will double its range. The batteries are also removable and can be charged on or off the bike. Each battery provides a range of 65 km. The battery BMS sophisticated algorithm dynamically calculates the State of Charge (SOC) and displays this on the dashboard in the form of remaining riding distance available at each mode. The full charging time for the batteries is approximately 3 hours.
Motor and Controller
The heart of the Super Soco TSx is its motor, which boasts impressive specifications. The 12″ Bosch motor rotor is integrated into the cast aluminum wheel, ensuring precision and reliability. With a rated power of 1500 watts and the ability to support a peak power of 3500 watts, the motor delivers exceptional performance for acceleration and riding on steep inclines. The TSx generates over 150NM torque at a speed of 45km/h, offering a thrilling riding experience.
The controller, encased in a robust one-piece ribbed die-cast aluminum box, plays a crucial role in the bike's performance. It is designed for efficient heat dissipation and is equipped with a Field Oriented Controller (FOC) that maintains efficiency across various speeds. The controller also adjusts torque according to road conditions, ensuring a safe and efficient ride.
Chassis, Suspension, and Comfort
The Super Soco TSx boasts an impressive mechanical construction, starting with its chassis. Based on the split-frame concept of racing motorcycles, the chassis offers both robustness and lightness. The front end is made of robot-welded carbon steel, painted using electrophoresis, weighing only 6kg. The rear half of the frame is robot-welded aluminum alloy, heat processed to a strength of 240MPa, making it capable of carrying a load of up to 150kg (330lb).
In terms of suspension, the TSx excels in providing a comfortable ride. It features inverted 700mm long and 35mm wide motorcycle-grade front shock absorbers with a 200mm travel distance. These shock absorbers offer strong torsion resistance and an optimal angle, ensuring a smooth ride even on rough terrains. The rear hydraulic and adjustable mono-shock further enhance the bike's comfort. The adjustable racing-style padded seat and footrests, with six available positions, allow riders to find their optimal riding position.
Brakes and Safety Features
Equipped with a 220mm disk hydraulic double-piston front brake with oversized floating calipers, the TSx ensures reliable stopping power. The front brakes absorb 80% of the braking pressure, making them more than capable of handling any situation. Additionally, a 180mm hydraulic disk brake is installed on the rear wheel. The bike incorporates waterproofed switches on the rear and front brake levers, activating the regenerative motor brakes, which recover kinetic energy and return it to the battery. This smooth regenerative braking system acts as an Electric Anti-Block System (EABS) and ensures maximum power conversion.
Lights and Display
The TSx features a stylish retro-style enclosure for its headlight, with six LED modules providing high/low beam and running headlight functions. These LEDs offer brighter and wider illumination compared to halogen headlights. The front light concentrates over 8000 lumens in a 35-degree beam. Additionally, thirty independent LEDs support the wide-angle daylight running light, while the rear running and brake LEDs provide 270-degree visibility. The front and rear LED turn signals are positioned 40cm apart, meeting motorcycle compliance standards.
The bike's display and gauges are housed in a retro-style dashboard, combining analog and digital elements. The display provides information such as current speed, error codes, total mileage, controller temperature, real-time output current, battery State of Charge (SOC), distance per charge, trip distance, remaining distance, ambient temperature, and current time. The right-side handlebar features electronic gear switches, a hi/low beam headlight switch, and a motor kill switch for easy and ergonomic access.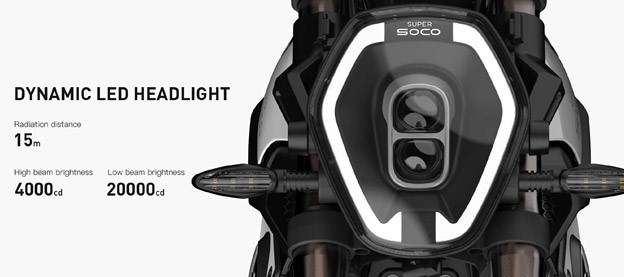 DISPLAY, GAUGES, SWITCHES
Security
The TSx prioritizes security with its keyless start system, which only works when in proximity to its fob. It also features both mechanical and electronic theft protection devices. The steering wheel lock ensures the handlebar remains locked in position, while the electronic keyless starting system requires the remote ignition activation knob to start the bike. Furthermore, the motor automatically locks when the bike is armed, enhancing security.
Conclusion
The Super Soco TSx is a versatile and user-friendly Limited Speed Motorcycle (LSM) that offers an enjoyable riding experience. Designed for beginners and new riders, it combines stylish design with performance and comfort. With a top speed of 70km/h, a range of up to 130km per charge, and quick charging capabilities, the TSx provides a reliable and convenient mode of transportation for urban commutes. Its robust mechanical construction, advanced motor and controller, exceptional suspension, and reliable brakes ensure a safe and comfortable ride. The TSx also incorporates modern features such as keyless start, security systems, and advanced communication capabilities. For those looking for a beginner-friendly electric motorcycle, the Super Soco TSx is a compelling choice.