Overview
The Kollter ES1-PRO-M is a dual sport electric motorcycle designed for off-road adventures and highways. With its rugged components and dirt bike-inspired design, it is built to handle rough conditions. However, it is also street legal and meets the CMVS standards, making it a versatile option for the roads. With its affordable price tag, it offers a budget-friendly alternative to Zero electric motorcycles for both city commuting and trail riding. Additionally, it is eligible for 33% BC provincial rebate and other Canadian provinces rebates applicable to electric motorcycles.
On-Road and Off-Road Capability
The Kollter ES1-PRO-M provides flexibility for riders who want to use it primarily on the road or tackle off-road terrains. With speed of 100km/h, this bike is suitable for all highways. It comes with road mag wheels and tubeless tires, but users can also purchase a second set of spoked wheels with knobby off-road tires. These wheels can be easily swapped in less than 15 minutes, allowing riders to adapt the bike to different riding environments. Additionally, larger 82 and 92 teeth rear sprockets sets are available for off-road enthusiasts looking to conquer mountain hills. Using such sprocket can double the torque of this bike.
Motor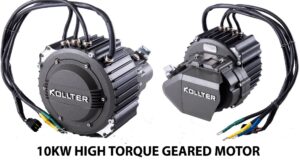 The Kollter ES1-PRO-M features the latest axial flux motor technology. The 72V, 10kW, 5,100 RPM motor comes with an integrated gearbox, delivering a peak torque of 220 Nm. With this motor, riders can accelerate by simply twisting the throttle at any speed, without the need to change gears. Axial flux motors offer high usable power and torque densities, making them compact and efficient. They provide instant torque from a standstill and maintain motor efficiency with low battery consumption. They have excellent cooling capability as all coils are with direct contact with the motor shell which acts as a heat sink.
Battery and Charger
Equipped with a pair of 72V, 32 amp-hour Panasonic batteries, the Kollter ES1-PRO-M offers a combined capacity of 4.7kWh. These removable batteries use high discharge ratio 18650 cells, ensuring high load capacity, longer lifespan, and excellent safety and reliability. With this capacity, the bike provides a range of approximately 120km on a full charge. The batteries can be charged off the bike or through the charging port located under a flat near the bars. Thanks to the fast charger, a full charge from flat takes only four and a half hours. The high charge current capability of these batteries allows efficient absorption of energy from regenerative braking.
Controller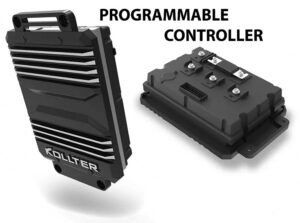 The Kollter ES1-PRO-M is equipped with a sine wave controller, offering silent operation and reprogrammable capabilities. This type of controller provides a smooth and predictable power curve throughout the entire range of operation. It can be programmed in racing mode for immediate torque or proportional acceleration, catering to different riding preferences. Designed for axial flux electric motors, the controller delivers 20% more torque than traditional square wave/radial flux drive train combinations, ensuring quieter motor operation. This controller regenerates the kinetic energy back to the battery when coasting at speeds of over 8mph.  Regen braking puts charge back into your battery and most importantly preserves your brake pads.
You can also turn Regen off by hitting the "eco" switch whenever coasting and you will roll naturally without any regen resistance. This means you can coast like a bike when you want to.
DISPAY AND CONTROLS
The Kollter ES1Pro-M boasts a highly advanced electronic system that effectively manages all the bike's components in real-time, providing valuable information through its dashboard display. This model is equipped with temperature sensors placed at key points such as the motor, battery, and controller and ambient temperature sensor as well as a reference.
The ES1Pro-M, featuring cut-off switches located at the handlebar and kickstand. When these switches are disabled, a green light labeled "READY" illuminates. Additionally, both the key fob and the bike itself are equipped with an RFID proximity system, ensuring effective theft prevention and security measures. Riders are advised to carry the fob with them for seamless operation.
To ensure riders have a hassle-free experience, the user manual of the ES1Pro-M includes a comprehensive error code table. Should an error code be displayed, this table acts as a helpful reference, allowing users to quickly identify and address any issues that may arise.
Chassis and Suspension
Kollter ES1 Pro is equipped with progressive linkage rear suspension, a feature for high end dirt bikes. It extends the shock travel distance and ensures a responsive ride ovel bumps and larger impacts like potholes. Off-road, the Kollter ES1-PRO-M offers a smooth and comfortable experience with terrain feedback. The adjustable front upside-down forks allow riders to customize the suspension setup. With the battery weight positioned low and forward, the front suspension provides firmness, although it may feel slightly less stable on slippery corners.
Brakes
The Kollter ES1-PRO-M is equipped with ventilated discs and CBS (Combined Braking System) enabled controls. The right lever activates the front and rear brakes simultaneously, providing dual braking for effective stopping power. The left lever controls the rear brakes independently, without ABS. The dual braking system offers enhanced safety and supports linked braking with the handlebar, similar to bicycle-style brakes. The braking power is impressive, but as throttling and braking at the same time is not possible, it may be necessary to disable regenerative brakes for more control on the dirt roads.
Conclusion
The Kollter ES1-PRO-M is an adventure-ready dual sport electric motorcycle suitable for highways and off-road. Its rugged design, powerful axial flux motor, removable batteries, high quality suspension, and flexible wheel options make it suitable for any road conditions. With its reliable braking system, adjustable suspension, and high torque, it offers a thrilling and enjoyable riding experience. Whether you're commuting in the city or exploring rough terrains, the Kollter ES1-PRO-M delivers versatility, performance, and eco-friendly transportation.
Reviews