The Super Soco TC Max, a retro-inspired electric motorcycle, has been the go-to choice for urban riders since its inception. This motorcycle ingeniously fuses old-school aesthetics with today's cutting-edge electric vehicle technology. Having garnered significant attention with its affordable yet stylish range, Super Soco's TC Max has successfully etched its place in the electric two-wheeler market.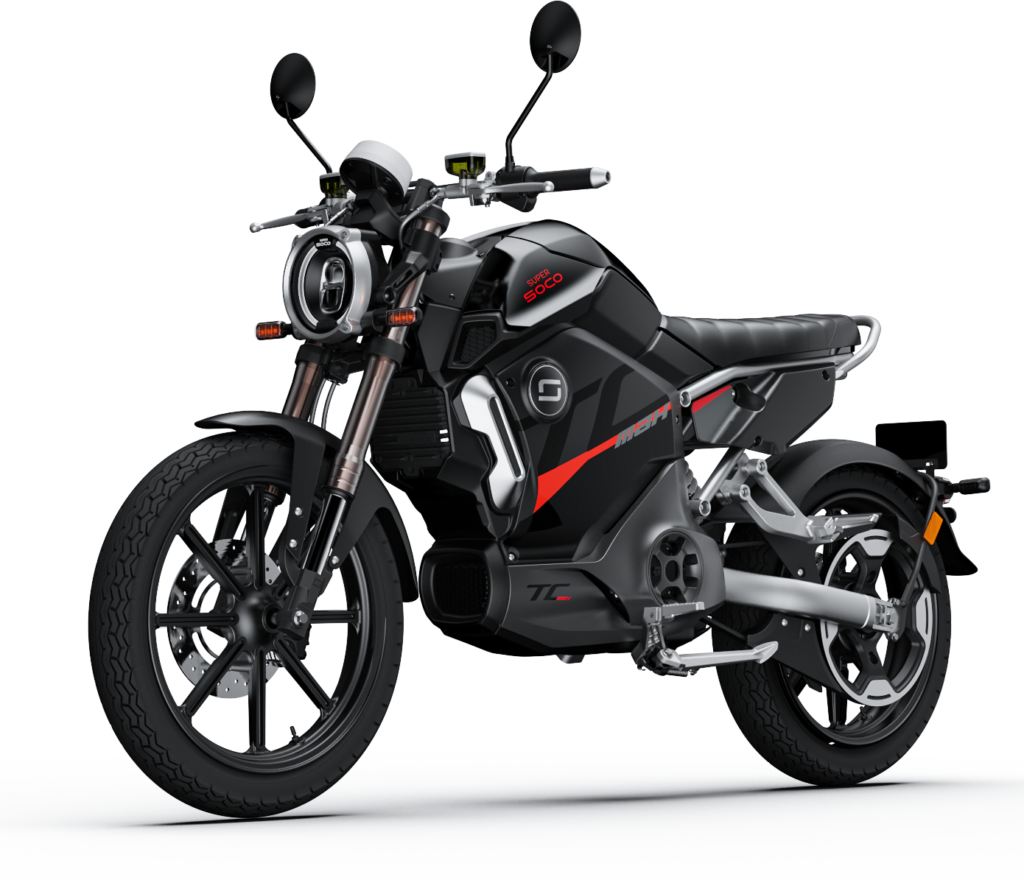 Design and Aesthetics
Look: Priding itself on a classic café racer appearance, the TC Max seamlessly blends minimalist and retro design elements. Features such as its round headlight, faux gas tank, and leather-style seating ensure it stands out on the road.
Build Quality: Primarily constructed from steel and aluminum, the TC Max boasts sturdiness. Its lightweight frame enhances efficiency and ensures even rookie riders can easily maneuver it. Pic.2
Display: The bike's digital display, juxtaposed with an analogue meter reminiscent of classic motorcycles, provides essential data such as speed, battery charge, and trip distance. This combination enriches its blend of retro style with a modern electric touch.
Performance
Motor: Driven by a 72V lithium battery combined with a 5kW motor, the TC Max exhibits a peak power of 8kW. Its top speed touches around 100 km/h (62 mph), catering to both urban commutes and brief highway runs. Although categorized as equivalent to a 125cc ICE motorcycle, the TC Max's instant torque and gearless design ensure it outperforms many 125cc ICE counterparts in terms of acceleration. Alternatively, TCMax can be programmed to max speed of 70km/h which is the limited speed that allows this bike to be driven with regular car driver's license.
Range: A single charge promises a range of 80 km at faster speeds (70-80km/h). However, when driven at a moderate 60-65km/h in urban environments, the distance can extend up to 100 km. While apt for city jaunts, longer trips necessitate strategic planning.
Handling and Comfort
Ride Comfort: The upright seating position and cushioned seat facilitate comfort during short to medium rides. As a lightweight bike, the TC Max offers nimbleness, especially in dense city traffic. Its rapid acceleration ensures riders can easily beat the traffic.
Charging and Battery
Charging: The TC Max's removable battery is its standout feature, enabling charging at home or work. It achieves a full charge within 4-6 hours. While the battery's weight is noticeable, its removability can essentially double the range for those who charge at their workplaces.
Battery Longevity: Dependent on usage and maintenance, the battery typically lasts several years before range degradation is noticeable. Its lifespan is influenced by charging cycles and may extend beyond 5 years if not utilized during colder months. It's pivotal to charge the battery bi-monthly when not in use.
Price and Value
The Super Soco TC Max, given its 2023 price tag, offers unparalleled value for those eyeing a voguish electric commuter. Its cost remains competitive, undercutting numerous electric motorcycle counterparts. Its powerful motor and substantial battery have earned the TC Max the title of Super Soco's best-selling model, available in over 50 countries worldwide.
Pros and Cons
Pros:
Vintage, stylish appeal.
Removable battery, enhancing charging convenience.
City-friendly handling.
Impressive acceleration, outmatching some ICE equivalents.
Cons:
Range may be insufficient for some.
Lacks regenerative braking due to the axial flux motor.
Not the mightiest electric motorcycle available.
Conclusion
For those residing in cities, the Super Soco TC Max emerges as an ideal blend of style, efficiency, and eco-friendliness. It might not supersede long-haul motorcycles or be apt for extended highway treks, but as a city-centric vehicle, it's nearly unparalleled.
Where to Buy
Joule Motorcycles, the official Canadian distributor for Super Soco, showcases an array of over five distinct models. Located at 5491 Regent St, Burnaby, BC, Joule Motorcycles caters directly to customers and supplies dealerships keen on diversifying their motorcycle range.
Related Videos and Reviews: