Overview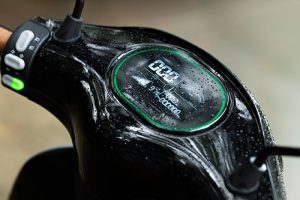 The Horwin EK3 made its debut in Austria back in 2020, generating excitement for its contemporary aesthetics, sleek lines, vibrant color palette, and avant-garde elements, all combining to present a sophisticated electric motorcycle option. Positioned as the counterpart to motorcycles in the 125cc ICE category, the EK3 truly shines in terms of its capabilities, refinement, and day-to-day convenience, establishing itself as a perfect solution for the modern daily commuter.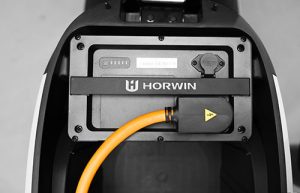 The EK3 brushless electric motor is capable of top speed of 100 kilometers per hour, making it the fastest scooter in this price range. Features include cruise control, a fully digital instrument panel, a combined braking system (CBS), and an optional second battery, which doubles the scooter's range from 100 kilometers to an impressive 200 kilometers on a single charge. It is equipped with high charge/discharge current battery which allows it to be charged in less than an hour with a fast charger.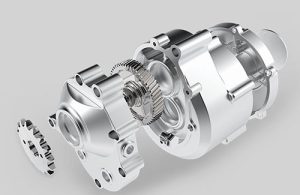 The centrally mounted Motor developed by Horwin provides an output of 6.7 kW, making it one of the most powerful in this class. The EK3 accelerates to 60km/h in six seconds, with full torque triggered immediately when the throttle is activated. The constant power of the engine motor ensures smoother running for the widest range of road conditions.
The compact size of the EK3 with a 14-inch front wheel and 13-inch rear wheel offer excellent handling and manoeuvrability. The EK3 weighs only 95 kg and has a maximum load capacity of 200 kg. It has a space for two people and offers a nicely designed rack and cargo box to support additional storage space.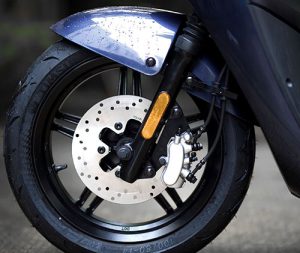 The EK3 scooter is equipped with double hydraulic shock absorbers at the front and rear offering safety and security for variable road and weather conditions. The EK3 comes with hydraulic brakes and a Combined Braking System (CBS) from Brembo, offering a seamless alignment between the front and rear brakes which is automatically activated in an emergency to optimize the use of the front and rear brakes to reduce the breaking distance and improving rider safety.
The automatic daytime running light DRL (Daytime Running Light) provides illumination with its intensive white xenon lamp. The improved lighting brings more safety especially on rainy and foggy days. An automatic light switch-off delay lights your way to the garage or entrance door when you turnoff and walk away from your vehicle. The headlights are equipped with LED lamps and provide for brighter and whiter which can pierce through the din of the night and offer far superior illumination than standard incandescent lamps. Some of the additional capabilities of the EK3 allow you to charge your smartphone on board via the USB connector. The vehicle key has a remote control built in: This way you can start, stop and even lock the scooter thanks to the proximity sensor detecting the key fob in your pocket.  It has an anti-theft system, digital touchscreen dashboard and cruise control.