Overview
The Super Soco TC Wanderer is a limited-speed motorcycle (LSM) that reaches a maximum speed of 72 km/h, with 1.5 kW continuous power and 3.5 kW peak power. The best part is that no motorcycle driver's license is required to ride it.
The bike's aesthetics are further enhanced by a digital-analogue speedometer, upside-down front fork with silver finish, large alloy wheels, and dual-sport tires that allow for both on-road and off-road use. The Super Soco TC Wanderer presents an appealing option for riders seeking a limited-speed motorcycle that combines modern design, practicality, and an enjoyable riding experience. With its electric powertrain, impressive range, and versatile capabilities, it caters to the needs of urban commuters and adventurers alike.
POWER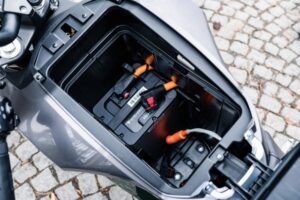 Equipped with a 2500W Super Soco engine, the TC Wanderer delivers a top speed of 45 mph and 2.5 kW of emission-free power, comparable to a small urban bike or scooter. It can be ridden with regular driver's license and is particularly suitable for new motorcyclists. The motor is positioned in the rear wheel hub and draws its energy from two ATL-made 60V, 32A (1.92 kWh) battery packs, providing a total energy storage capacity of 3.84 kWh. With a single battery, the TC Wanderer offers a range of up to 40 miles, which doubles with the optional secondary dual battery, resulting in a range of 100 km. The parallel battery system optimizes electric energy utilization and enhances overall power output.
BRAKES
The Super Soco TC Wanderer is equipped with a single disc front brake featuring CBS (Combined Braking System) and four-piston radial calipers. The rear brake is also a single disc with dual-piston calipers. Its front suspension consists of an inverted telescopic fork, while the rear suspension features a mono-shock setup. The bike rides on alloy wheels, with a front tire size of 90/80-17 and a rear tire size of 110/70-17. Both tires are tubeless, ensuring convenience and reliability.